Good day! It's a long weekend in the USA and like last year this time I recorded another album-a-day. It's called Baking about architecture. In music I only believe in one kind of cover: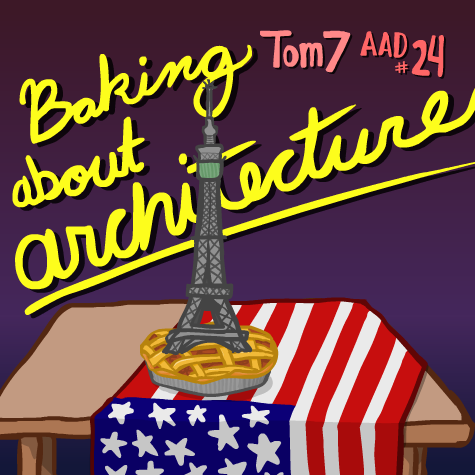 Eating buildings and then some one-minute throwaway thing that became A tribute to attributes and then Text me like where's Rite Aid at. Eating buildings and Text me like... are easily my favorites on the album (if you only listen to a few songs, make it those two.) I got excited by these early successes and spent a long time on them, particularly on lyrics, and then after five hours I was like jeepers I've recorded less than four minutes so far. After that I was a little burned out and had to pick up the pace. I have a new strategy, which is when I feel like a song isn't going so well, I just cut it loose, meaning I finish it but as quickly as I can and don't sweat it (0xCAFÉBABE), so that I can save time for those critical moments.

I have a bunch of new/different equipment and tech now, so I'm interested how you think it sounds from a production standpoint. Obviously I am really cranking the levels as usual; I am just trying to do my part in the dynamic compression arms race. If you are keen to this kind of thing you will notice a lot of punching in and out, which I hate the discontinuity of, but this was part of my expedient process of recording my lyric ideas and melodies as I was writing them so that I didn't have to put them down on paper/emacs so much or rerecord when I'd screw up one bit.

Production notes:

When I set out to make an album I sometimes solicit song titles and lyrics ideas. This time I did it on Facebook and got loads; there were too many to use but lots of these are named by suggestions. Some made it in as lyrics, too.

Eating buildings.

I really like this one and it's an obvious opener. Lotsa good lines, and probably the best-recorded guitar one. Eating Buildings is the team name we usually use for puzzle competitions, but this song is more literal.

A tribute to attributes.

The only two redeeming things about this song are the title (though not really that clever) and the part where I list some things and their attributes, which depending on what circles you roll in you may be able to figure out. I sandwiched it between my two favorite songs so that you get it over with quickly. (Also then the first 3 are in chronological order.)



Text me like where's the Rite Aid at.


Everything really came together for this one. I discovered a new music fact: Triplets are super danceable, particularly when syncopated with some "regular" power-of-two stuff (the "you were so beautiful..." part).

It's so mutual.

You can tell when I'm starting to feel impotent on the guitar because I start detuning it, but then you get these drone zone ditties where it's impossible to be catchy. It's not bad, just a snoozer.



Love, train & rust, wrench.

Usually during the course of the day at some point I'll pick up the guitar and a song will come to me without any obstacles or anything. These are always refreshing. Max gets credit for the best line, "Sacajawheel-'o-fortune". Note that all of the electric guitar parts in the last 4 songs I've posted on T7 Radar are extremely blaring. I do know how to turn it down, but it's currently set up that way and I just think it's so funny!



Helpy, Invert, Soft Pinky & Flexoid.

As my synthesizer ages (now about 15 years old, making it almost vintage) it's interesting to see how useless its once hi-fi General MIDI patches have become. I spend all my time in the extended zone mining it for delightfully ironic fake-sounding stuff like "Tron Flute" featured prominently here.



I'll be acquitted.

This is this week's songfight. In songfight, internet people all write a song with the same title and then the songs "fight" with voting. A whole week to write a song is way too snoozy for me, but I like those guys and sometimes do the songfight song when making an AAD.



Mosquito romance.

This song was built around this musical element seen in the first bar, which is an increasingly thick series of chords (1 finger, 2 finger... 7 finger) followed by an abrupt faint simplicity. It works great right before the switch to "Malaria..." but the rest of the time it just makes the individual parts seem disjoint so that the song doesn't flow very well. I still like this one.



0xCAFÉBABE.

This was the most painful one, when recording. I just couldn't come up with any lyrics or melodies beyond the opening "Cafe babe!" which is annoying after pretty much the first time. You can tell when I just start doing 59th St. bridge song stuff, barely even trying. (Listening back, it's not really that bad.)



You mean FIRENZE?.

This was a song title suggestion, which means I don't know if it's an overzealous correction about the local name of Florence (I imagine some high schoolers on a big trip for their Italian language class and there's the one kid who insists on speaking even English in an Italian accent when over there, and has even taken up smoking for cultural accuracy) or whether basically the same image but about Harry Potter fandom. Features my signature 2K+-era sine wave add-chords, a style I like to call "DTMF Jam".



Why won't it melt?.

Speaking of Def, about a month ago I first realized what "Mos Def" means. The best science pun in this song, which is ungettable unless you read the lyrics or I tell you now, is about the Mohs hardness scale.



Themes (gotta catch 'em all):

Non-human creatures in love

Things being black

Car crashes

Love perimortem

French words

Sudden abrupt quiet during techno



Now get album.