Happy New Year! Please enjoy the bold studio music sound of my 25th solo Album-a-Day, called everylyyly everyy must it & & than an.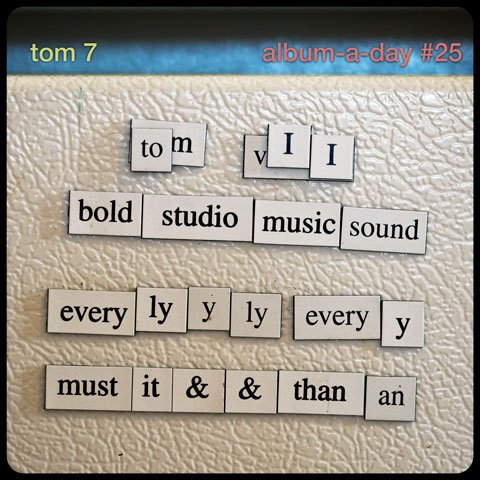 Tom 7 album-a-day #25: everylyyly everyy must it & & than an



Like last time I got a massive response to my request for song title suggestions, using the Facebook. Thanks everylyylyone! Of course I couldn't use them all, but many of these are based on suggestions, and also there are many that made it as lyrics, or that I make oblique reference to in the lyrics. Hear it for yourself by putting the bold studio music sound in your ears, but you'll probably have to wait until tomorrow for me to post the lyrics, cuz I don't have internet at home due to a billing mishap which is a separate story.

Song key:

Why we don't allow eleven year-olds to run mining operations.

Love this one. In these intense guitar-detuning and partial capo configurations, it's a miracle to be able to be able to find multiple parts with different feels, like the major-key chorus. Lucky. One regret is that I didn't let the improvized coda go on longer; I should know better because these often become a favorite part of the song (e.g. Poison Control.)



Sane clown posse ‽.

I like the verse motif in this song. I wish it had a more distinct chorus, but I can only blame myself. Would have been called "hot interrobang" (interrobang is the ‽ symbol, which is like a contracted !? only used by nerds and tasteless typographers) by popular request, but I wanted to make sure that my favorite line in the song made sense, so it needs help from the title.



Once upon a tonic clonic.

Techno dance party.



A mundane baking event that became a dessastert/confectastrophe level incident.

Based on a true story from New York City that Copix or Spoons can tell you about.



Prophet solves the case (it was easy).

I felt like this one was a little bit too sparse to be an instrumental, but too spacey to be filled with words, so it has the odd quality of having an instrumental "chrorus", but that doesn't make it less snoozy.



Sistema de entretenimiento de Tomas Siete.

Sing me Spanish techno?



My brother's cat which is called Dr. Turtledog, Ph.D..

Mike and Erin are getting a cat and they've already decided to call it Dr. Turtledog, Ph.D., which was my idea.



Regretted purchase.

If I was allowed to axe songs from Albums-a-day, this would be the one I'd axe, though it is not entirely without merit.



Watermelon Town, technically Watermelon Township.

Okay, here you can really tell I'm making a logorrhea joke in general, because there's just no reason to clarify the incorporation status of this fictional township in the title, especially since that's never referenced in the song. But I do like the logorrhea jokes.



Mr. Natural vs. the Clothes Fascist.

At the piano roll recently I have some ailment regarding triplets and polyrhythms. This worked out fine in Once upon a tonic clonic, but this song has at least three failed experiments crammed into it. Likable for a dumping ground though.



Wrecking the ghostlines.

This mysterious title was Amy's suggestion. I like writing songs around mysterious titles because it helps me avoid my undesired tendency towards literalism.



* This asterisk coming up is a footnote, which should read "Actually I do endorse these two."

As always, the Tom7.org Foundation would like to remind listeners that the opinions or events expressed in lyrics do not represent the official position or behavior of the lyricist or singer-man (same), and that the Foundation does not endorse drug abuse (prescription or not), improper disposal of handguns, flouting of mining statutes, illegal fireworks or nudity*, or baking with the wrong equipment. Safety is the biggest rush.