As has become something of an Independence day weekend tradition, I recorded another album-a-day yesterday and today. It's called Method and apparatus for removing the lug nuts and it's my 26th solo affair: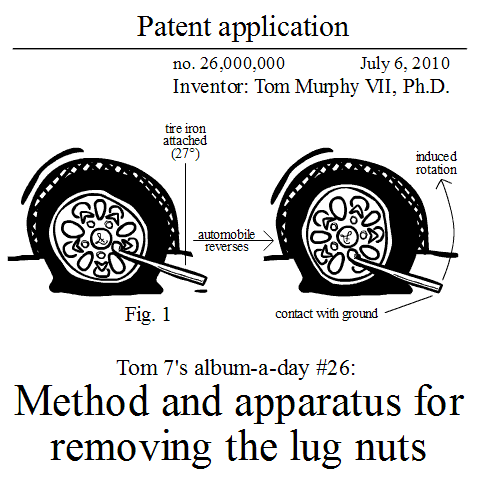 Method and apparatus for removing the lug nuts



The title comes from an "invention" I had during an unusually coherent dream yesterday. Last week (this part is real) we were playing soccer when a lady came over to ask if anyone could help her change her flat tire. I tried but could only get two of the four lug nuts off. Since I was disgustingly covered in soccer sweat and only making the tire iron less effective with that, and not to mention that in my absence Disney—that was the opposing team—scored on us, which I will have none of that (don't worry, we won in the end) I went back to the game and summoned more burly computer scientists to replace me. They did succeed just as the AAA professionals arrived. But anyway, yesterday I woke up having dreamt an idea of how you could use the car itself to undo even the toughest nuts. It's illustrated above. For all I know it's totally standard advice, or maybe even very dangerous or ill-advised (an alternative is to use the jack, but I don't think you'd get as much instantaneous torque). But that's okay because this is not a real patent, it's just the title of my album and the name of the title track, a techno dance party which happens to be my favorite. That track and others:

Method and apparatus for removing the lug nuts.

Already backstoried. I think the best track on here. How could a chorus in 47/16 time be so catchy? It's a mystery to me, too.



Nothing makes cars flip out like seeing a bike.

Based on a very embellished non-true story inspired by July 4 events. A theme of this album is the narrator insisting that other people "do their jobs" at inappropriate times.



Peace is rest.

My entry for this week's songfight. I think this is another of the best tracks. It has percussion using a real percussive instrument, which is new. Also the thematic insisting.



TV chef breaks pizza record.

Front-page headline, mainstream news.



Only ___ would rhyme ___ with ___.

Uncharacteristically restrained MIDI ballad.



2 am pancakes.

True story, but a pretty bad lexicographic pun.



Vulgar fraction 3/4.

Straight-up 8-bit ditty.



Literally fall.

Something weird is going on with this one, dynamics-wise, like there's a hidden compression plugin I couldn't find to disable. Oh, well. If you find the lyrics annoying, rest assured that they are much much better than the placeholder lyrics.



Label me purple.

After achieving the singularity, mankind built a machine to judge them. It always reports "purple", the second-lowest rating.



When people tell me that I am a pretty good dancer they usually look surprised or like I should be surprised.

This is true.



Life's a bleach.

I'm sure this is an old pun, but I did enjoy it and writing lyrics for it, especially because I love rhyming science words.



Thanks to those who contributed ideas and titles. To enjoy/dismiss music go to the page and download the MP3s for free.