I created music.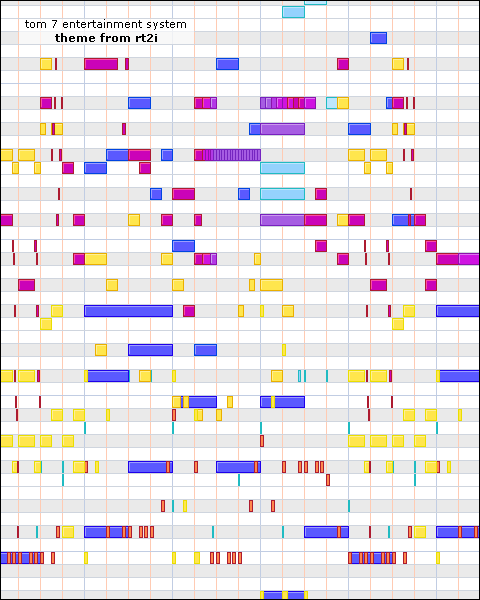 Here's a new Tom 7 Entertainment System song I just finished, called "Theme from rt2i". I've written a lot of T7ES songs of course, but this one differs in the following ways:



I wrote it over the course of several evenings. I almost never spend more than a continuous stretch of an hour or two on one song, especially not these piano roll ditties. This one took many hours. I made myself continue. It's not my favorite way to make music, because I inevitably end up getting sick of the song in the process of working on it—which I think can't help but manifest itself in the music—but sometimes it's still a good idea.

I concentrated more than usual on texture, almost sacrificing melody at its expense. You can see from the screenshot that there is a craplot of stuff going on. IMO the best compromise of texture and tune I ever got was with

Theme from jlw

, but this one has more complexity with layers of phase-interfering square waves and noise-shaped drums, etc.

It's over five minutes long! Maybe that's not weird for most music, but the vast majority of T7ES songs comprise a single idea in the 0:30–1:30 range. If you graph the length of the most recent T7ES tunes, being Theme from The Goog at 2:41, Conditional Independence Day at 3:21, and this rt2i at 5:25, it suggests a kind of disturbing trend. It's true that the song repeats once (important to demonstrate its incessancy and therefore qualify it as video game music), but that is weirdly long for me. I really like best the idea of short songs, but it is also an interesting challenge to try to make several ideas work in the same song, and to exercise some kind of compositional pace.

I learned some new tricks. One is the truncated measure. You can hear this at the very beginning of the song: It's like, surprise! I do this three times in the loop, where I suggest continuance but then abruptly change to some other big noise. Another trick: I copy a few lines from various places in the song into other parts even if the character is different, then manipulate them to make them fit. This is a good way to make the song feel like a single song, especially if there are abrupt surprise changes. Other trick: There's a natural tendency for really thick shit to just keep getting thicker; the only cure for this really is an abrupt sucking emptiness, where the raw lack of notes creates itself a kind of intensity.



Only time will tell what I really think, but for the time being I'm pretty happy with it. Times span 4/4, 25/4 10/4, and 15/4. Of course I know that 25/4 isn't really 25/4 in the music sense; that's just the macro-level periodicity. That phrase is really something like 4/4 4/4 4/4 3/4 6/4 4/4.

PS. My toenail finally fell off. Gross.