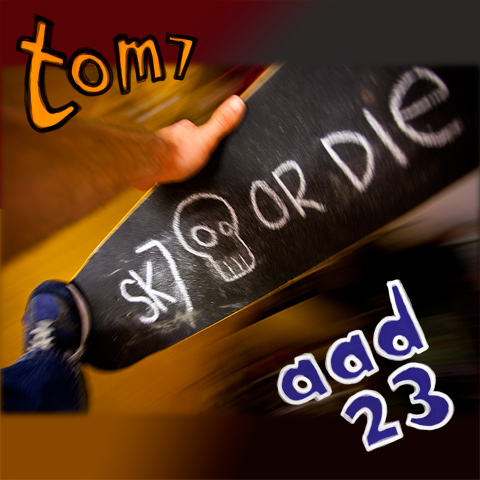 The 7evenths MP3s (coming still) and on the second song I thought hmmm this would sound good with a little extra guitar so I got out the mics and plugged all that stuff in, and then at that point all the hard parts of making an album were dispensed with, so then many hours later there was my 23rd album-a-day, sk7 or die!!!.

It took me a few days to get around to posting this so I'm past the phase where I'm totally burned out and hate everything about it. There's some good songs. Notes and hints:

Sun beam melts ice girlfriend.

I'm proud of this one. It just jumped into the brain, in that way that makes me feel a little uncomfortably like I'm just remembering some song I've heard before. Based on the tuning, partial capo, and lyrics I'm pretty sure that's not the case. The first half of the second verse is probably my favorite lyrics on the album.



A for amateur.

This one is about paper.



Contessa with the shoes on.

A throwaway 8-bit affair. When the bass comes in I like it better than the other one, but then it's over.



Butter car.

I think this one's really close to being a top notch song, but it has a handful of cop-out lyrics, some sloppy playing, and a couple of lines that aren't delivered right. Deserves polish and a rerecording. (Butter Car is a strange in-joke from Murphy family Pictionary games.)



Contains lemon-lime taste idea with no natural-seeming flavors.

If you are empowered to put this disclaimer on a product, please do.



The gift of beer: the gift that keeps on giving for 45 minutes.

One of those songs where I am running low on ideas so I sing about some things that are on my desk or in the news, like beer and Christmas.



Investment banking is a myth.

This one also came extremely easily. It's fine. My favorite part is the "revise, resubmit" line (jargon from the academic journal biz).



Cricket chirps or mp3 artifacts? You make the call.

This is a field recording, where by field I mean the room where the lizard lives. I thought I was going to need it to round out the 20 minutes but it turned out it wasn't necessary. Field recordings containing environmental sounds are like the peanut butter glue holding cohesive albums together.



Nurturing Parent v. State of Mississippi.

Almost called Negligence Torte, but I couldn't resist emphasizing this ridiculous refrain. I wrote this one while I was waiting for my Chinese food, by humming.



Dynamite lettuces.

My plan here was to make a nice wandering chiptune with lots of parts that blended into one another, since I can do that late at night without disturbing the neighbors. But I went to a party and was pretty tired when I got back, so it is a medium-sized short-walk chiptune that probably seems pretty undirected. Oh, well.



Some old coffee in the new coffee.

This is probably the most Tom 7-formula guitar track, but it does have a certain cleanness to it and I think the twist that the lyrics take is pretty funny.



Theme from Costco.

I recorded the guitars for this very early on, but it was the last one I finished. I frequently used a technique on this album (which I think works pretty well) where I would record nonsense lyrics in order to come up with a melody and maybe lyric sound ideas, but this one the nonsense lyrics made enough sense and I was tired enough that I just kept them.



I'm still not keen on my newest recording setup and I miss Cubase and VSTDynamics. But it could have been worse, I could have spent the weekend tidying up already existing almost done projects instead!

Like usual you can snag the MP3s at Tom 7 AAD #23: sk7 or die!!!.